Followership instead of Leadership?
Anyone who wants to maintain an international top position in the maritime, offshore and energy sector faces considerable challenges – and opportunities – in the field of technology and sustainability. But how do you, as a CEO or HR team, manage the activities of your organization efficiently and commercially successfully? And how do you meet internal and external expectations and obligations at the same time? Try a different perspective: followership. It offers useful insights to realize an agile, future-proof way of working with your employees.
Followership is an emerging concept in leadership studies. In summary, it is about an active attitude and a clear role of employees to create more synergy and a more equal interaction between a follower and a leader. After all, 'followers' play a crucial role in the successes and failures of an organization. To put it (slightly too) simple: the follower is the one who does the work that is necessary to realize the leader's vision in practice. However, that nowadays means something different from "a subordinate who does what he/she is told".
Context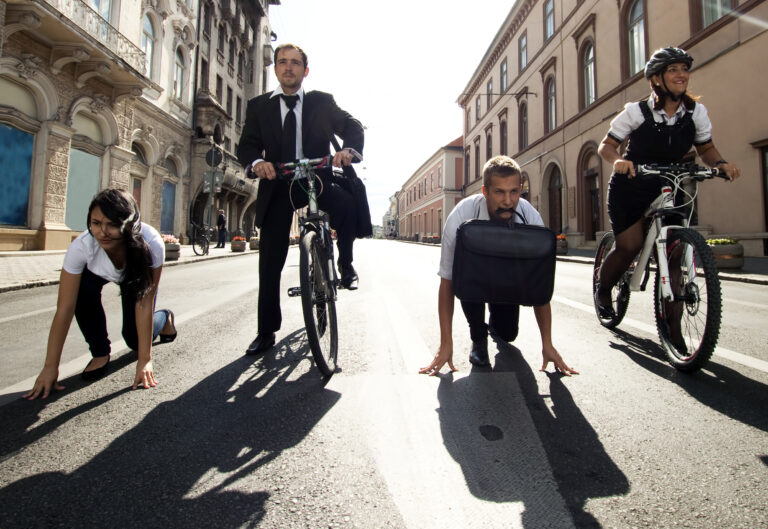 Today's context in which maritime companies operate, is complex: there's pressure to further reduce emissions, greener, smarter and safer sailing, 'demand-driven, custom-made solutions' for customers and a smarter IT and production infrastructure. Simply 'just delivering your product as usual' requires ever-increasing collaboration between public, commercial, technological and financial parties. In addition, companies, or rather their leaders, have to get started with the digitization of work processes, labor flexibility, the use of robots etc.; meanwhile taking into account the needs of different generations and nationalities in the workplace. Try and walk a mile in those shoes…
Workforce transformation
To remain agile and competitive, organizations regularly adjust their structure, systems and ways of working together. Therefore, employers expect different (types of) knowledge, skills and commitment from their employees. They must be flexible, continuously self-develop and collaborate effectively. No wonder that the top three HR challenges are workforce transformation, attracting new people and retaining and developing talent.
If that workforce (the followers) is so essential, then why are organizations still 'rolling out' slow, costly leadership programs and top-down change programs?. Why does formal structure (often an organizational chart in the form of a rake) largely determine when people are allowed to do what? In a context of interdependencies, information abundance and speed, these static structures pose more obstacles than security and predictability. No surprise that many organizations experience a leadership crisis, or at least, that's how many employees experience it.
Of course there is the well-known and successful 'agile' method. But even agile has fixed guidelines for project and process management and strict role requirements, for which you must first be trained. The implementation of agile also entails significant structural changes, escalation models and internal change programs.
A smart alternative
An interesting alternative is to develop such behaviour and skills so that people are able to independently do what is necessary in a certain situation. Not top-down, but directly and organization-wide with the people who carry out the primary processes: the followers. Research shows that followers contribute at least 80% to the success and effectiveness of an organization. So it makes sense to spend time on their development. But what exactly constitutes a good follower?
Effective followers: interaction based on equality
Followership is simply about having equal and effective interaction as to organizational goals. A definition? Allright, here's a mouthful: 'Followership is the ability to act autonomously and responsibly when leader and follower roles interact – accepting that those roles are of equal worth to the organisation'. In other words: shift one's thinking and behaviour from 'leaders will tell me why, what and how I should do something' to 'what can I do best to independently contribute to the set of given organisational goals?'.
Being of an independent mind, being able to assess situations well, being open to different opinions, being intrinsically motivated for personal and organizational goals and working independently and accountably – such characteristics make an organization more agile and innovative. Effective followers are therefore good at self-management. They learn and develop continuously and indicate in a clear and timely fashion what is needed to succeed. And because they are less receptive to hierarchy, they are more likely to see their colleagues – including their supervisors – as valuable equals with a common assignment, rather than as a 'boss' or competitor. Effective followers are the best independently operating collaborators.
Developing followership
How do you develop employees into effective followers? Start by paying attention to and actively involving employees in the organization rather than just their work. Provide direction and motivation through a clear goal to which they can truly commit. Teach followers and leaders to look at the organisation (and themselves) less as a hierarchical structure and more as a set of roles of equal worth in achieving results. Let the employee perspective be more guiding in the choices managers make and in dealing with their colleagues. And make sure that employees take more responsibility, speak up more often instead of looking 'upwards'. Check carefully whether rules and procedures contribute to or hinder your operation.
Set up a training program focused on core skills such as self-management, effective interaction and insight into role dynamics. Also think of practical training courses, such as critical thinking, comprehensive listening, prioritizing, professional arguing and influencing stakeholders. You can even experiment with switching between leadership and followership roles.
By including these skills in assessment and development interviews, followership becomes visible and concrete. You can also experiment practically. Consider rotating leadership in small groups (there are already large Chinese companies doing this!), participative decision-making and delegating smaller responsibilities on shopfloor level.
For some professionals, these core skills seem obvious or even unnecessary. But in practice, often only managers are taught them during some course or outdoor session. For people (high and low) whose thinking and working patterns have always been rooted in the idea of hierarchical positions, the concept of followership can be quite challenging. Nevertheless, the corresponding skills are essential to be continuously effective in every new project.
This certainly holds true in maritime and offshore project organizations, where a form of design, construction or installation is required for the customer and young, new employees sometimes have a very different image of what 'organization' means than management has.
Benefits of followership
What is the 'ROI' of developing followership in the workforce? It seems significant. Because grown-up, independent employees, who truly experience that they matter, provide more alignment. They know how to find each other quickly when needed, because they develop close, personal ties and networks. They keep colleagues engaged and sharp or ensure more synergy between different business units.
It also results in lower costs, less need for control and less administration, because, due to their considerable problem-solving capacities, effective followers are able to manage 'hassle' in the collaboration faster, resulting in better choices at all levels. In addition, they indicate more proactively what is going on and what is needed in the organization – and they already provide solutions themselves.
Finally, people who develop professionally and personally in their job and are appreciated for it, are usually happier. This ensures a lower employee turnover rate, retention of knowledge and talent and an attractive employer brand with real ambassadors.
In short: who follows, leads!