Participate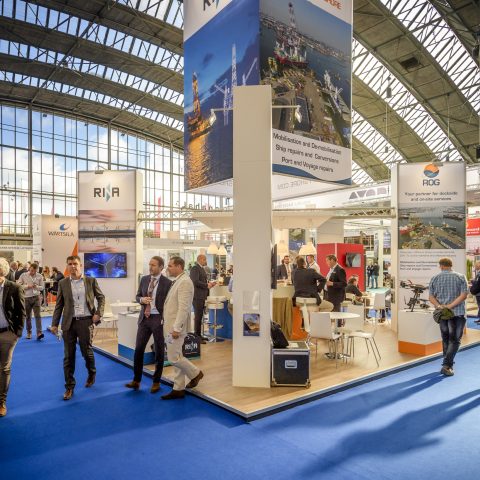 Stand Options
Offshore Energy Exhibition & Conference (OEEC) is Europe's leading event for the entire offshore energy industry.
Offshore Energy Exhibition & Conference, taking place on 27 & 28 October Amsterdam, The Neterlands (OEEC), is Europe's leading event for the entire offshore energy industry. This is where the energy transition takes place. By exhibiting at OEEC your company is visible at the heart of the offshore energy industry. It's gives the opportunity to present your products and services, expand your network and connect with experts and professionals across global markets.
Maximise your visibility and be part of this three-day event filled with networking opportunities and peer collaboration.
Or go directly to our floor plan and book your stand.
Full Service

Make the most of your time and resources and leave the planning to us. Shell scheme stands are available in various sizes.

All-inclusive package
Company name and company logo
System walls and anthracite carpet tiles
Electricity (up to 2KW) and furniture
Full catering service
2 parking tickets
Space only

You are free to design your own stand. Offshore Energy has large space-only areas available on premium positions. Space only does not include the full-service participation package.
Co-exhibitor

Co-exhibiting includes a listing as official exhibitor, an entry in the event magazine, in the event app, on the exhibitor list, on the floor plan and includes the company name printed on the fascia board when exhibiting with a full-service stand.
Outdoor area exhibition

In the offshore industry, tools, machinery and constructions can be oversized. Exhibitors interested in showcasing sizable hardware too big or too heavy for inside demonstration will have the possibility to display their products and services at Offshore Energy's outdoor exhibition area.
Demo Area

Does your company supply safety equipment? Lifeboats, safety gear, underwater camera's, inspection drones or maybe you are specialized in working at difficult heights? Show your audience what this equipment can do in real life. The new Demo Area combines a large pool, rigging tower and drone flying cage and gives exhibitors the opportunity to present their company and tools to a live audience during the exhibition.
Green Marine Area

Sustainable solutions are important for companies operating in the field of Offshore Energy. The changing landscape in the offshore energy sector results in a collaboration betweek all industries. Together they work for the same goal: realising the energy transition.