Stand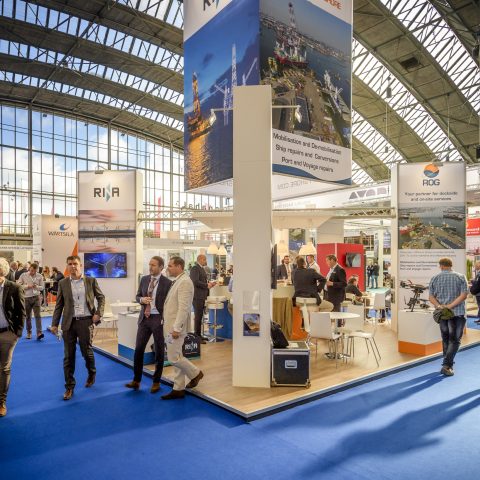 Participate
26 & 27 October | Offshore Energy Exhibition & Conference (OEEC) is Europe's leading event for the entire offshore energy industry.
By exhibiting at Offshore Energy Exhibition & Conference your company is visible at the heart of the offshore energy industry. It's gives the opportunity to present your products and services, expand your network and connect with experts and professionals across global markets.

Maximise your visibility and be part of this event filled with networking opportunities and peer collaboration.
Full Service

Make the most of your time and resources and leave the planning to us. Shell scheme stands are available in various sizes.

All-inclusive package
Company name and company logo
System walls and anthracite carpet tiles
Electricity (up to 2KW) and furniture
Full catering service
2 parking tickets
Space only

You are free to design your own stand. Offshore Energy has large space-only areas available on premium positions. Space only does not include the full-service participation package.
Co-exhibitor

Co-exhibiting includes a listing as official exhibitor, an entry in the event magazine, in the event app, on the exhibitor list, on the floor plan and includes the company name printed on the fascia board when exhibiting with a full-service stand.
Outdoor area exhibition

In the offshore industry, tools, machinery and constructions can be oversized. Exhibitors interested in showcasing sizable hardware too big or too heavy for inside demonstration will have the possibility to display their products and services at Offshore Energy's outdoor exhibition area.
Star-up Zone
Showcase your invention, new product, process, or services to a diverse audience of offshore energy professionals and investors. Publicize your proof-of-concept to professional businesses, international manufacturers, integrated solution providers and investors to drive marketability to the offshore energy industry. Network and make powerful connections with manufacturers, commercial agents, promoters, financiers, users and entrepreneurs across the world. Accredited participants of the Startup Zone will receive complimentary access to one of the conference sessions.
Why join the the Start-up Zone

Offshore Energy (OEEC) is looking for early stage start-ups with good technical ideas that make the offshore energy sector economical, safer, more efficient and more sustainable. From an idea that needs to be validated to almost market ready ideas ready for a pilot, investor or launching customer. We offer attractive start-up prices to entrepreneurs who are working on their business. Whether you are an entrepreneur with an idea or have already created a business and are now looking to expand your reach, we can help.